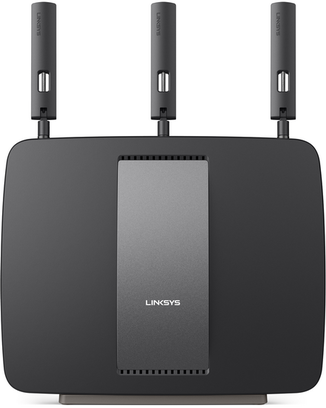 Cisco Systems, Inc., a well-known American developer of network solutions, is glad to announce its newest Wi-Fi router, entitled EA9200 (codename: Smart Wi-Fi Router AC3200). The tri-band model boasts industrial-oriented vertical design, three antennas, and support for the latest Wi-Fi IEEE 802.11ac standard. It is able to operate in two bands – 2.4 GHz and 5 GHz – which guarantee the maximal throughput index of 3200 Mb/sec. Besides, the third antenna operates also at 5 GHz band, adding to the overall router's performance.
Linksys EA9200 is based on a 1 GHz dual-core CPU and three co-processors which in combination provide for 2.96 GHz processing power. This implies the possibility to handle multiple data streams simultaneously to a range of connected devices. The model supports Windows and Mac platforms, Wireless-N and AC technology, various storage file systems (FAT, HFS+, NTFS), DLNA media server, VPN (PPTP, L2TP, IPsec), IPv6, and 802.11 standards: ac – up to 1300 Mb/sec for 5 GHz band, a – up to 54 Mb/sec, b – up to 11 Mb/sec, g – up to 54 Mb/sec, n – up to 600 Mb/sec for 2.4 GHz band.
To continue, this router accommodates 12V power adapter, four Gigabit Ethernet ports, one USB 3.0 port, and one eSATA/USB 2.0 port. Gigabit Ethernet ports promote for 10 times fast data transfer speed than typical USB (other interfaces) demonstrate.
The implementation of Smart Connect technology enables the connection of up to ten devices, automatically prioritizing them over three bands. The router gives priority to video streaming, web browsing and content management processes, allowing to control overall network activity, Wi-Fi access, transaction speed, create a secure network by means of passwords, restrict Internet access to third-party users, etc.
The availability of three internal and three external antennas (replaceable) gives six powerful data streams in total to ensure coverage of the whole office/home. Beamforming technology helps in focusing wireless signals at a receiving device and reducing interference from other connected devices. Thus, one might expect the highest efficiency of a wireless network with speedy data streaming.